Hello Teachers & Parents!
GradeSpelling.com is a FREE spelling & vocabulary resource that provides grade appropriate spelling word lists and activities for kids, teachers, parents and homeschoolers. Each word list can be printed and interacted with online. We provide weekly lessons, games for learning each weekly word list. We encourage students to pass the spelling test with 100% before advancing to the next lesson. Students of all ages and learning abilities can use our spelling word lists with a variety of learning activities that help to reinforce correct spelling and word meanings through fun learning activities.
We recommend students do ONE lesson every day and as each lesson is completed with a grade of 90% or greater, move to the next lesson.
This is a FREE resource. GradeSpelling.com is a great summer resource to help students of all ages become better spellers! If you need reporting records or custom word lists we recommend SpellingClassroom word list mastery program . You can also register for a for a free 14 day trial and learn about all SpellingClassroom program!

My 4th and 5th grade students love working on Bigiqkids.com! It goes at their own pace and they can track their progress"
– Mrs. Underwood – Teacher
It's a multisensory approach to learning spelling & vocabulary combined with interactive fun. My kids loves it!"
– Leah From NY / 4th Grade Teacher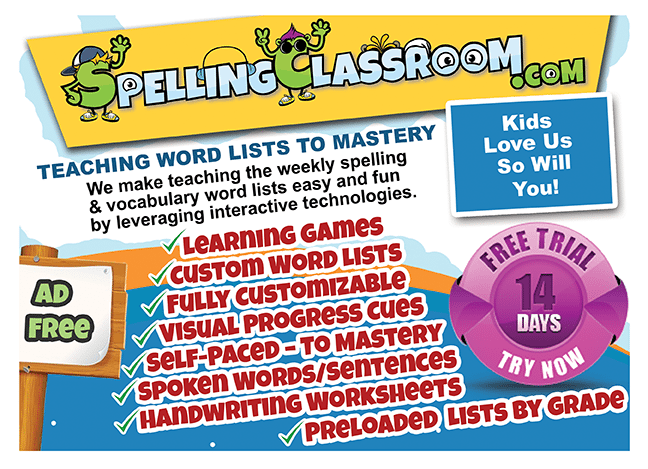 Why upgrade to SpellingClassroom.com

!
Customizable word lists;
Customizable lesson plans;
Student pacing visual cues for self advancement
Teacher controlled environment – games, rewards, lessons;
Additional interactive writing modules;
Messaging between teacher and student functionality;
Novel students courses;
Full Results Reporting;
No ads
Create Classroom with students
Individual student log ins
Challenges students to achieve success via rewards.